Banks, here's how to fix cross-border payments
Fast, easy international money transfer drives the global economy. A record-breaking $156 trillion in payments are expected to cross borders in 2022 representing everything from B2B transactions to remittances. During the pandemic, not even border closures stemmed the flow of cross-border payments — they actually accelerated them.
The world has become truly global. Every human activity can cross international borders, from supply chains to talent acquisition activities, and strategic partnerships to personal relationships. The demand for real-time, cross-border payments from individuals and businesses of all sizes is only continuing to rise.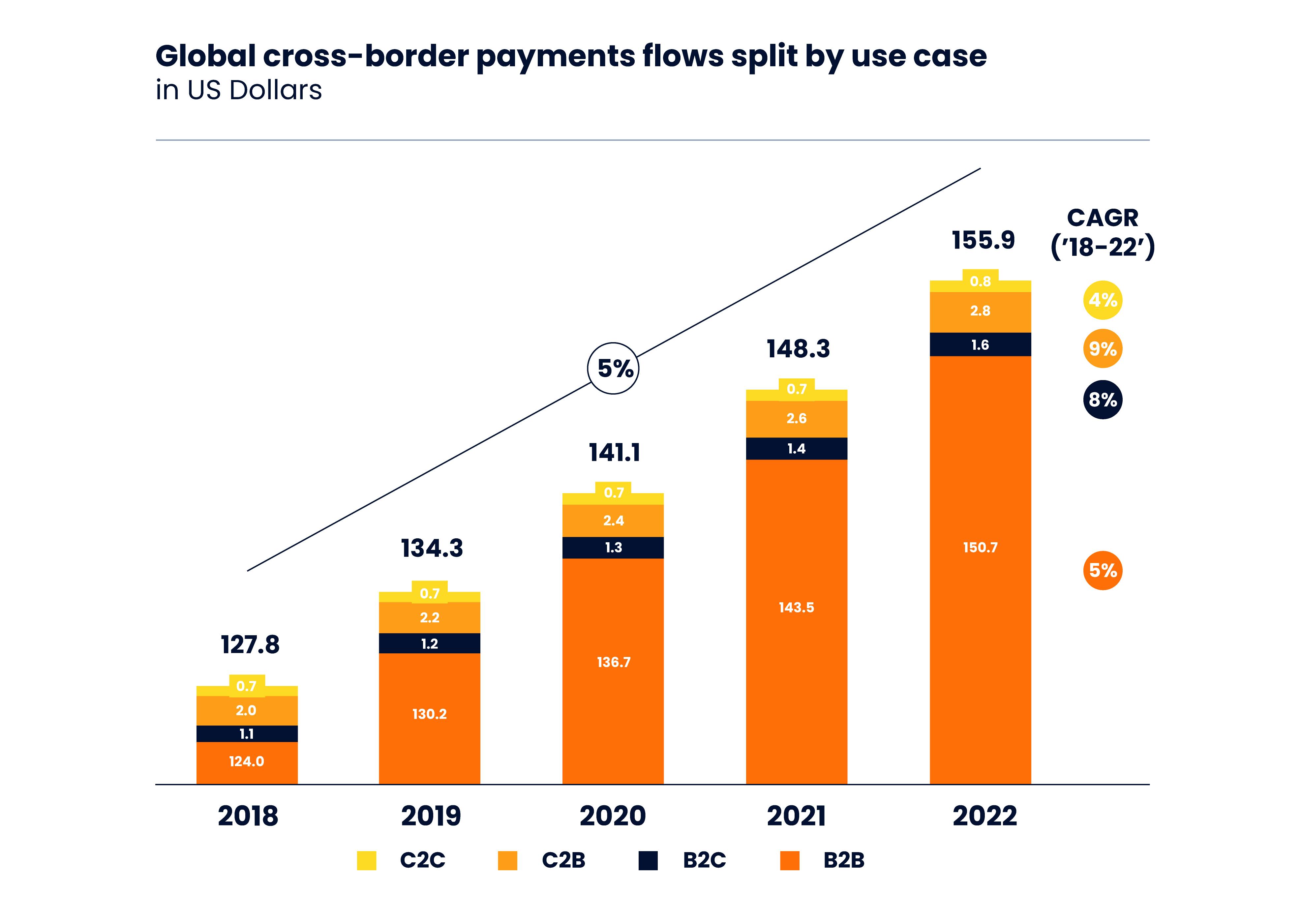 Source:
EY
The greatest opportunity lies in emerging markets, where cross-border payments flows grew an estimated 11% (CAGR) between 2018 and 2022. This fast pace of growth makes enabling real-time, transparent cross-border payments in emerging markets one of the key battlegrounds for customer acquisition and retention for banks and fintechs alike. Unfortunately, banks have been unable to seize this opportunity — yet.
Legacy technology holds banks back — and opens an opportunity for fintechs
International money transfers between banks in established and emerging markets generally pass through a chain of intermediaries due to a lack of direct connections among banks in various countries. Not only is this process cumbersome and slow, but each intermediary takes a cut, driving up costs. In addition, the coordination of each transfer remains a tedious, manual process that wastes precious time and resources.
For a migrant worker looking to send money back to family abroad or a business wanting to pay a contractor in a developing market, waiting days between their money leaving their account and arriving in the recipients' account, mobile wallet, or cash pick-up location is not good enough. Consumers know this and are taking their growing and profitable business to fintechs or money transfer operators (MTOs) who can process transactions more quickly — sometimes in real time.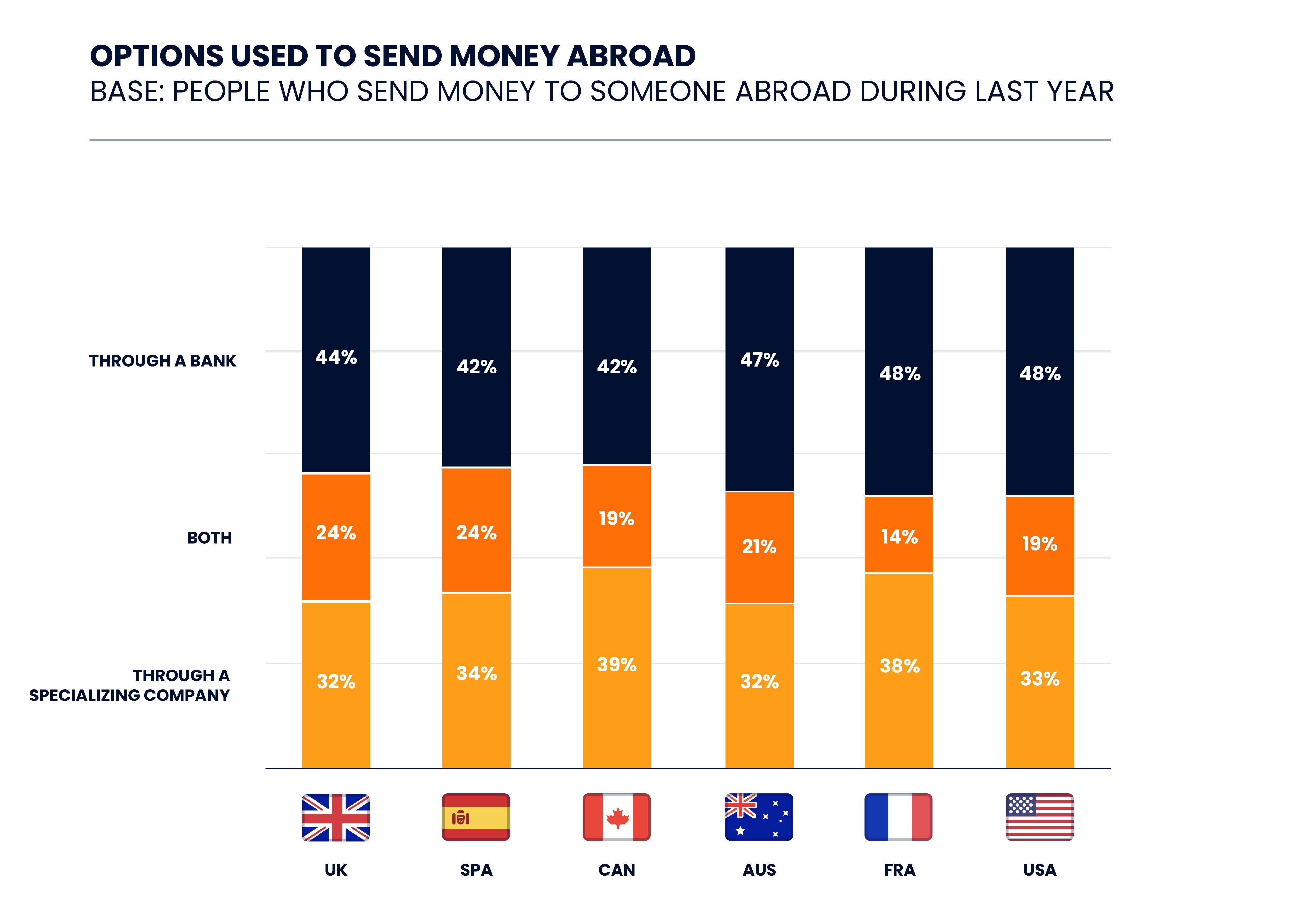 Source: Ria Money Transfer
In a spring 2021 survey commissioned by Ria Money Transfer, more than 50% of consumers in six established markets (the U.S., U.K., Spain, Canada, Australia and France) who had sent money abroad in the past year had used a non-bank transfer provider. In other words, non-banks — mainly fintechs and money transfer providers — have taken this growing cross-border payments business away from banks. If banks don't act quickly, they'll continue to lose share of wallet to fintech innovators — particularly neo-banks that directly compete with banks by offering savings accounts and other core banking services.
Payment channel diversity is critical for emerging markets payments success
Customers don't just want cross-border payments in real time. They demand access to a diversity of payment channels, too. On Dandelion's network, a majority of cross-border payments sent by banked customers to emerging markets like Mexico, Ghana and the Philippines are received by cash pick-up points or mobile wallets, not bank accounts.
More often than not, however, banks do not have the infrastructure in place to facilitate the fast, smooth payments customers have come to expect, nor do they offer the diversity of methods for receiving payments critical in emerging markets. Banks' failure to provide alternatives to bank deposits in money transfers to emerging markets is an enormous missed opportunity.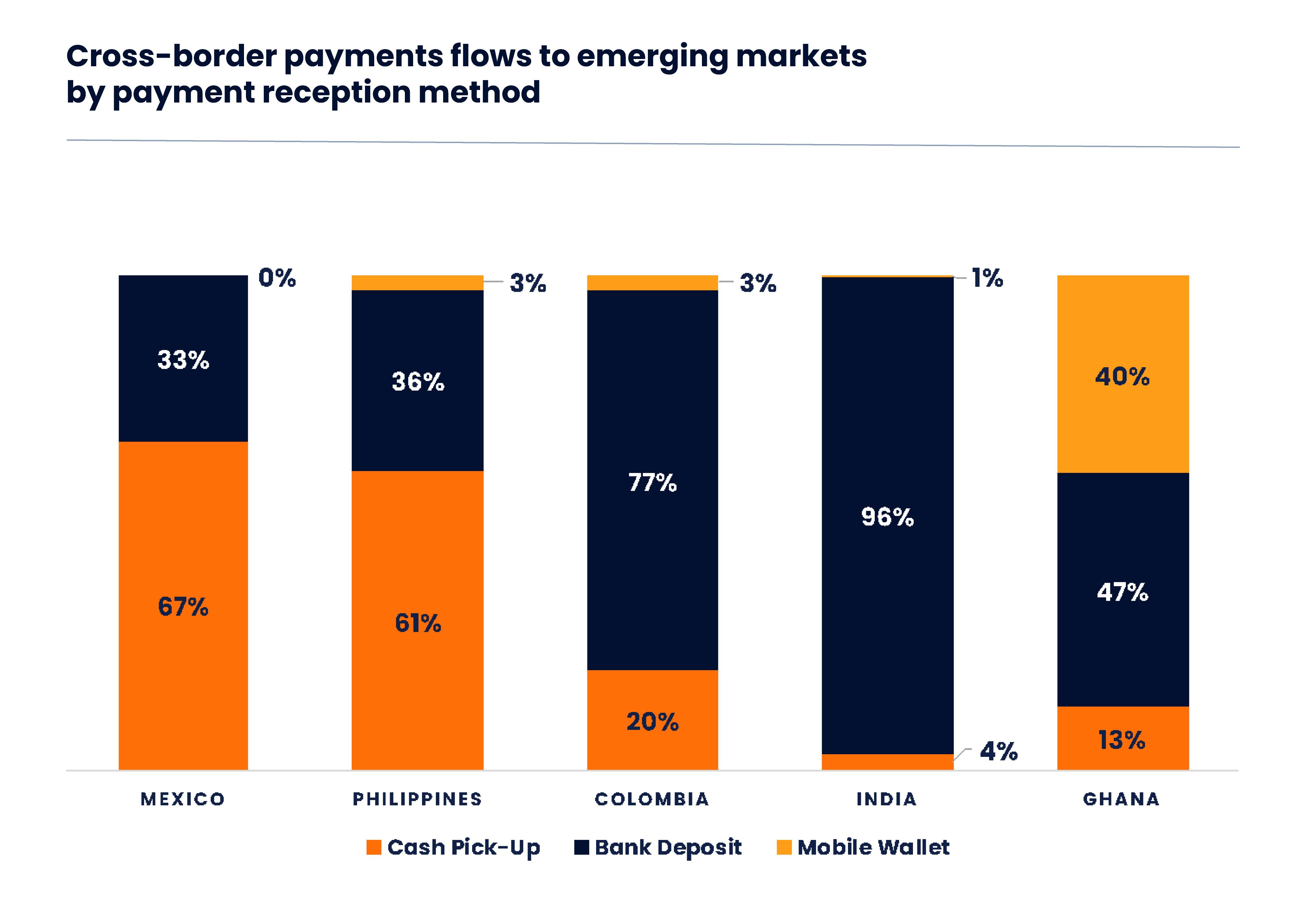 Source: Dandelion
You really can't blame banks for not building the necessary infrastructure for real-time money transfer across diverse channels, however. Forging a cross-border banking relationship is incredibly time- and resource-intensive, involving international travel, many meetings with regulators and extensive paperwork. (We know — we've been through it many times.)
The good news is it doesn't have to be this way. If they can move beyond outdated legacy infrastructure, banks can access a robust, scalable solution for truly global payments — unlocking massive revenue growth and finally offering their customers the streamlined, affordable experiences they deserve.
How banks can seize a $156 trillion opportunity
Fortunately for financial services players, doing it yourself isn't the only option to drive international payments growth. That real-time, cross-border, truly global payments network that takes so much time and investment to build? We built it — over the past 30 years. And it's helped our business grow leaps and bounds.
Now, we're opening up our Dandelion infrastructure to help other businesses grow. By tapping our network, banks can begin clawing back some of the wallet share they've already lost to fintechs.
One API integration and one contract is all you need to access 170`+ countries, 103 currencies, 4 billion bank accounts and mobile wallets and 500k+ cash locations around the world. You can be up and running within 90 days with a renewed ability to increase your revenue, attract new customers and retain existing ones.
Fintechs and MTOs are also taking advantage of the Dandelion network, so it's critical traditional banks remain competitive by growing their capabilities with their customers' needs.
Most importantly, better payments infrastructure means that people around the globe will finally be able to transact with each other transparently and in real time. These are the rails our new global economy needs — and we're excited to help our customers make use of them.